What Are Bundled Payments—and How Do They Reduce Healthcare Costs?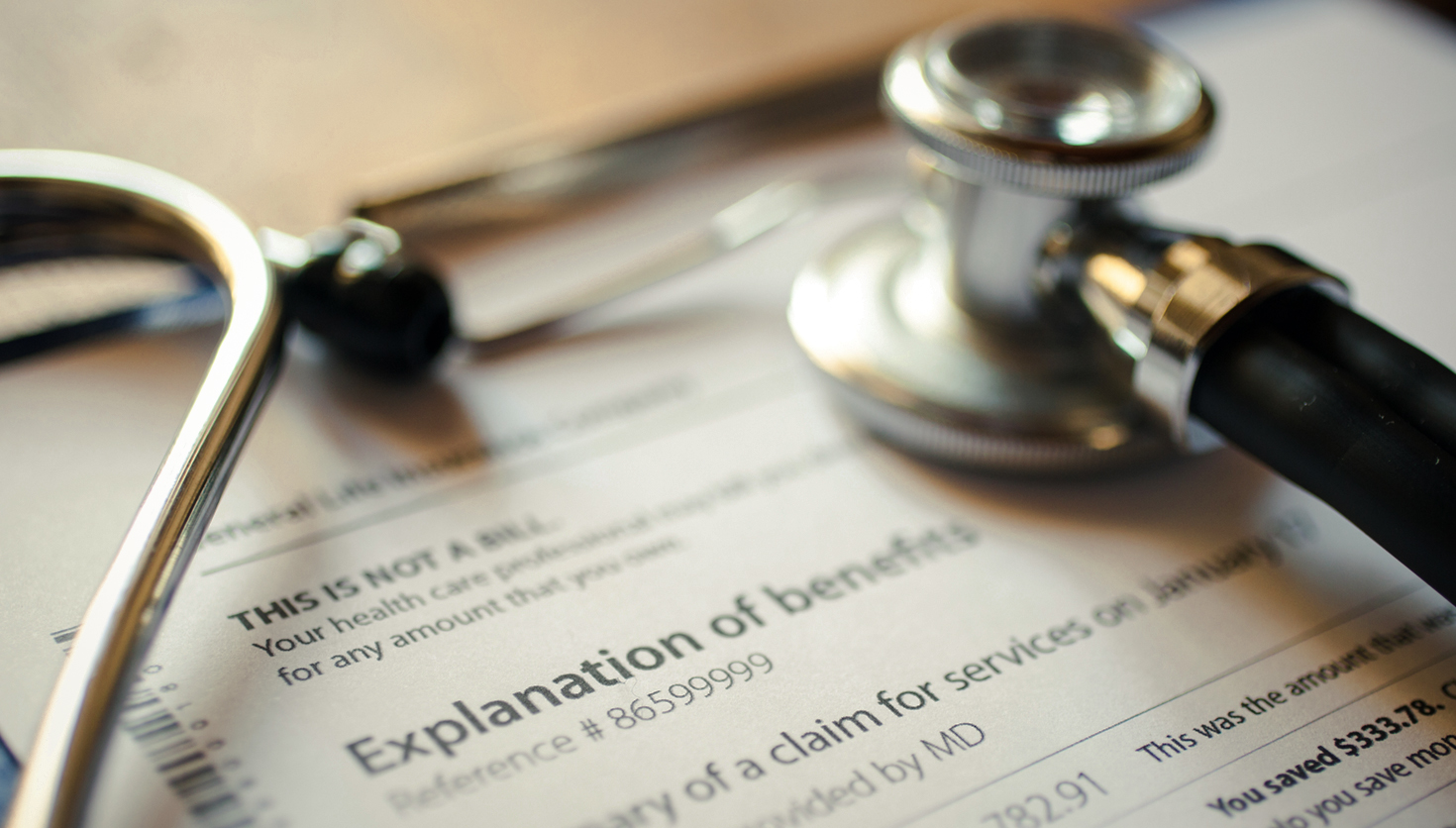 If you're a self-insured employer or benefits consultant, you know how important it is to provide high-quality healthcare to your employees or clients while also managing costs and risks. But this is far from an easy feat—and the traditional fee-for-service payment model dominating the U.S. healthcare system isn't helping.
Here's the good news: Self-insured employers don't have to settle for a solely fee-for-service healthcare world. You've likely heard of alternative payment models (APMs) that are value-based; these APMs aim to align incentives, improve health outcomes, and lower costs for the patient and the payer.
One of these alternative payment models is called bundled payments. The Centers for Medicare and Medicaid Services (CMS) found that bundled payments can reduce healthcare spending by up to 15% while simultaneously improving quality and patient satisfaction, making this a more appealing payment model for all parties.

In this blog post, we'll explain the difference between fee-for-service and bundled payments, the benefits of this alternative payment model, and Carrum's approach to leveraging bundled payments for surgery care and cancer care.
What is fee-for-service?
Fee-for-service is a healthcare model in which providers (e.g., surgeons and anesthesiologists) receive reimbursement for the quantity of services they execute. In the fee-for-service model, there's a specific price tag assigned to every individual service and procedure, and the provider is paid for each one they complete.
For example, let's say a patient needs a knee replacement. That's no simple procedure. A lot goes into it, including but not limited to:
Diagnostic tests
IV drugs
Surgery supplies (e.g., gauze, gloves, bandages)
Hospital or facility stay
Post-surgery medications
The surgery itself
Post-acute care
In a fee-for-service model, all of that plus more shows up separately on a patient's bill—and sometimes on numerous bills. There will be multiple billing codes, claims, and payments to handle, and patients often have to pay more than one copayment or coinsurance amount. And there's really no way for a patient to accurately estimate how much this surgery will cost them. Because with fee-for-service, the costs could vary per provider, the providers may have to deal with different rules and rates from different payers, and so forth.
Beyond the administrative hassle, fee-for-service can unfortunately lead to overutilization of services, unnecessary or low-value care, and increased healthcare costs. Because the more services or procedures a provider renders, the more they get paid—regardless of necessity or effectiveness. There is little emphasis on patient outcomes and satisfaction. Volume is king.
What are bundled payments?
Bundled payments are an alternative payment model that aims to move toward more value-based care. With bundled payments, providers receive one single reimbursement for an episode of care, such as a surgery or cancer treatment.
So, returning to the example above, every single aspect of that knee replacement—from lab tests, to the surgery, to post-acute care—would be included under one fee.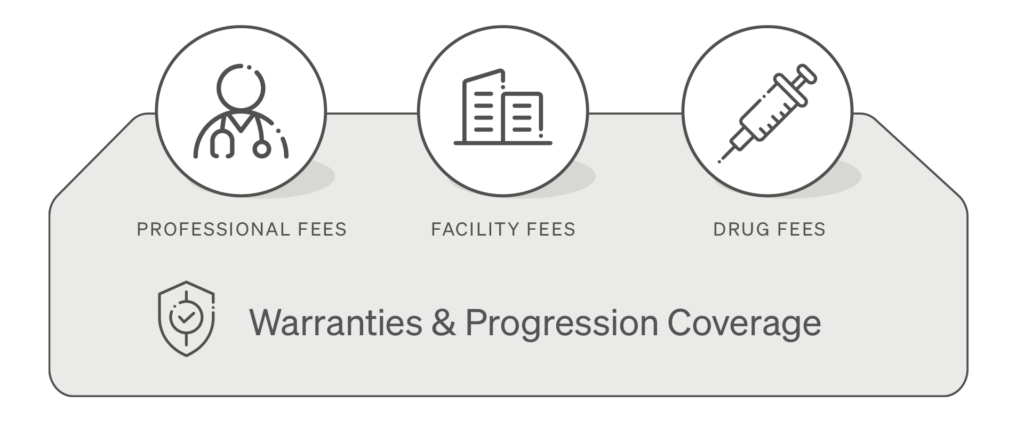 The benefits of bundled payments
There are several benefits to this value-based alternative payment model, besides the fact that it prioritizes value over volume (which is critical). Here are some of the main ones:

Bundled payments simplify the payment process and reduce administrative costs: Bundling all services for one episode of care under a single price eliminates the need for multiple billing codes, claims, and payments, ultimately reducing paperwork and hassle. Plus, bundled payments reduce the variation in payment rates across different payers and providers, decreasing the administrative headache even more.
Bundled payments incentivize quality care and coordination across providers: This type of model rewards providers for delivering efficient and effective care. It also encourages collaboration and communication across providers and institutions, as well as the development and implementation of evidence-based care pathways.

Bundled payments improve patient outcomes and satisfaction: A bundled payments model reduces unnecessary or low-value care, helps prevent avoidable complications and readmissions, enhances patient engagement and education, and offers more transparency and choice for patients.
Of course, everything has both pros and cons, and that's no different with bundled payments. For example, bundled payments expose providers to additional financial risks, as they must bear the losses if costs exceed the target price, or if quality falls below the standard. It can also be difficult for providers to set prices and manage contracts and data sharing. In addition, if not done correctly, a bundled payments model could lead to some unintended and undesirable behaviors, such as: cherry-picking low-risk patients, shifting costs to other services or settings, or avoiding innovation or experimentation.
Partnering with a centers of excellence (COE) network to leverage bundled payments
Though bundled payment models can be far more advantageous to self-insured employers than fee-for-service, they can be complex to design and implement. It requires finding high-quality providers, negotiating contracts, managing data and data sharing, engaging employees with the right care at the right time, and more.
Fortunately, employers don't have to do this all on their own. Partnering with a COE network can help smoothly and quickly implement a bundled payments model. However, it's important to note that not all centers of excellence networks are the same.
A first-rate COE network will take steps to avoid unnecessary care, prioritize quality over quantity, hold providers accountable for outcomes, seamlessly integrate into an employer's existing benefits ecosystem, provide expert support throughout an entire episode of care, ensure care is easily accessible to the employee population, and offer pre-negotiated and affordable flat rates for end-to-end care.
Carrum Health, for example, does all of this. A value-based COE platform, Carrum negotiates directly with top healthcare providers to offer upfront bundled payments to self-insured employers like US Foods, Sodexo, and Prudential. Before adding a center of excellence to our network, we evaluate both the COE and each of its physicians using our proprietary 50-point evaluation process in order to ensure only the top 10% of providers join our platform. Carrum has a large network of surgery care and cancer care COE partners, including City of Hope, Mayo Clinic, Cleveland Clinic, Memorial Sloan Kettering, and TOPS Specialty Surgical Hospital.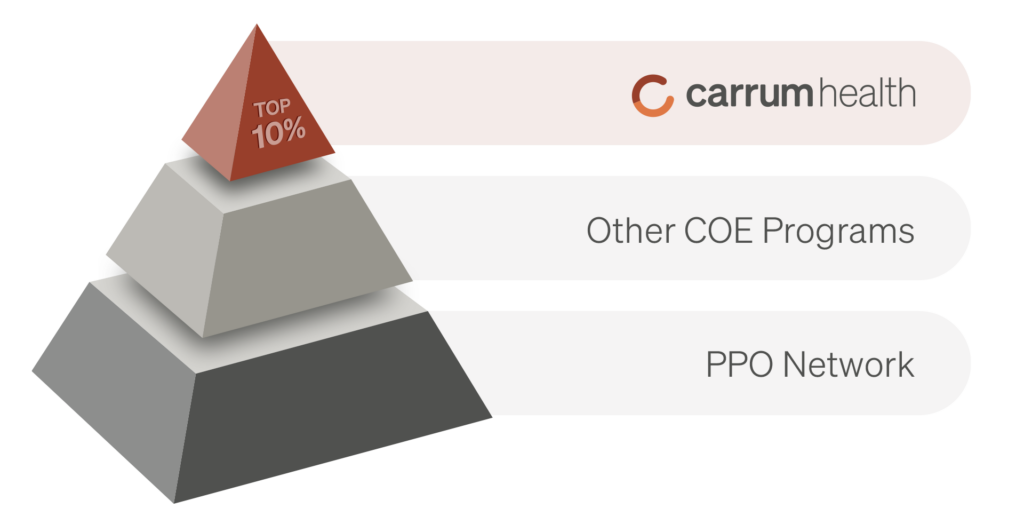 Currently, we provide bundled payment options for joint replacements, cardiac surgery, bariatric surgery, and cancer care. We also offer care guidance, care coordination, and travel and lodging arrangements if needed. Our unique approach ensures patients receive more appropriate care—care that's better, less expensive, and easier for everyone.
Read how Carrum helped Fidelia gain a new lease on life.

According to The RAND Corporation, Carrum Health reduces unnecessary procedures by as much as 30%, saves employers up to 45% per episode of care, and reduces readmissions by an average of 80%.
To learn more about how a center of excellence network like Carrum can help you or your client decrease healthcare spend and achieve optimal health outcomes and patient satisfaction, reach out here. We'd love to hear from you!