How to prepare for weight loss surgery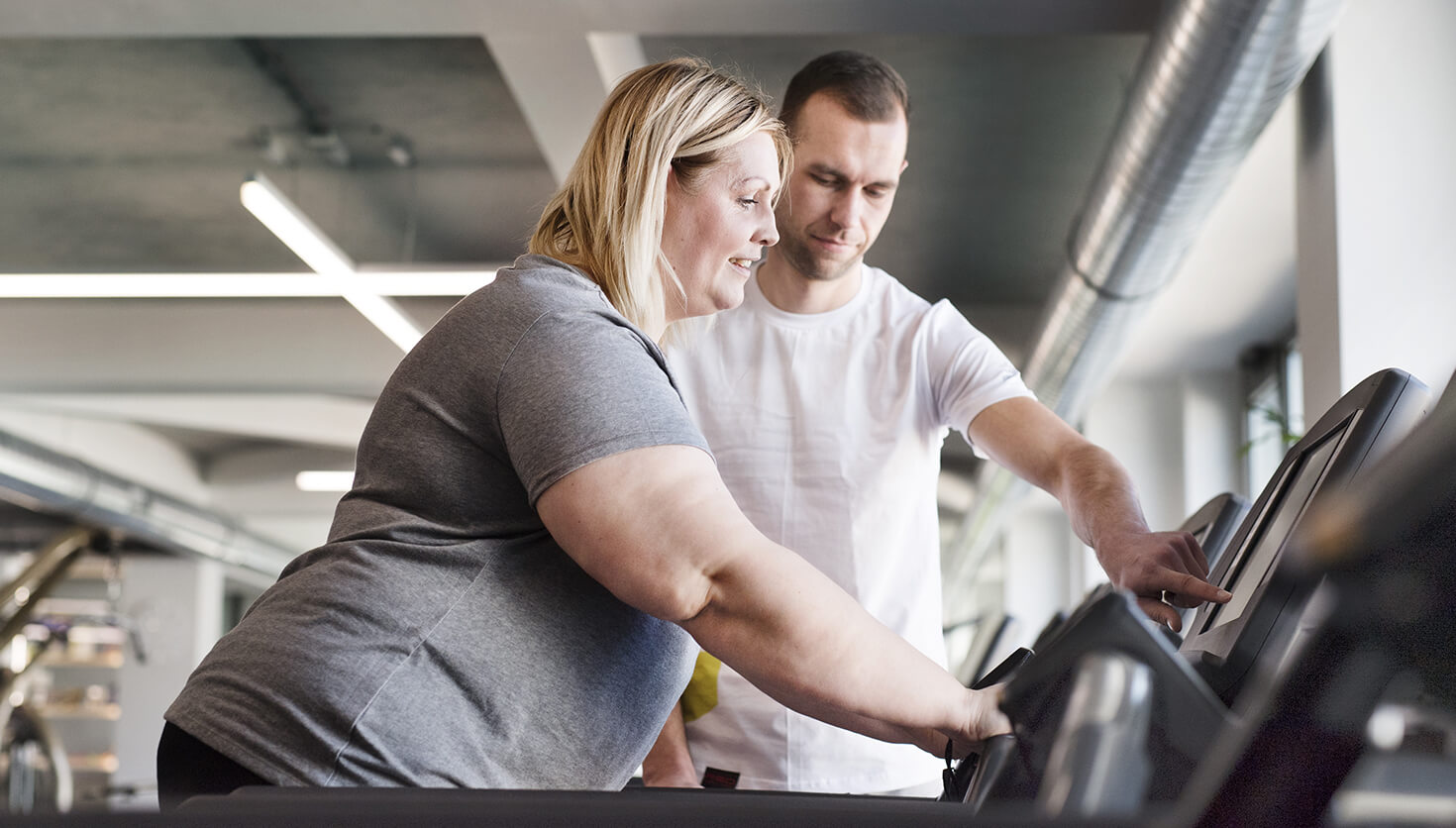 Severe obesity, defined by the National Institute of Health as having a body mass index (BMI) of 40 or more, can affect every aspect of your life — from your emotional wellbeing to your physical health to the quality of your life and relationships. It is likely that you have tried many different methods of weight loss over the years, only to find yourself stuck in a cycle of continuous weight gain.
Professionals recognize that severe obesity is often hard to treat with diet and exercise alone. But coming to the decision to have bariatric (weight loss) surgery is not an easy one. You and your loved ones probably have a lot of questions and concerns.
This guide will help give you all the information you need to make a well-informed decision about the next step in your weight loss journey.
What is bariatric surgery?
Bariatric surgery is an all-encompassing term for any surgical procedure on the stomach or intestines with the intent of inducing weight loss. There are different types of weight loss surgery. Our partner hospitals such as Scripps Health typically offer two of the most common bariatric surgeries: gastric sleeve and bypass surgery. Another, less common procedure, is a biliopancreatic diversion.
Bariatric surgery is effective because it forces a reduction in calorie intake and/or minimizes how your body absorbs calories. Regardless of which type of weight loss surgery you have, you will need to create better eating habits such as moving to a more nutrition-dense diet.
As of 2015, there almost 200 thousand weight loss surgeries per year performed in the United States alone. One study, Biliopancreatic Diversion: The Effectiveness of Duodenal Switch and Its Limitations, found the following average weight loss success rates after two years, per type of surgery:
Biliopancreatic diversion — 73% excessive weight loss
Gastric bypass — 65% excessive weight loss
Sleeve gastrectomy — 56% excessive weight loss
Those are significant numbers: a loss of 50% of excess body weight causes a weight loss surgery to be considered successful. However, it's important to know that "success" in bariatric surgery is subjective. You may not judge the success of your surgery by the amount of weight you lose alone; improved self-image, improvement of diseases like Type 2 diabetes and heart disease, and an improved quality of life are all potential measures of success.
When is weight loss surgery recommended?
Bariatric, or weight loss, surgery is typically only recommended for people who have tried other weight loss measures without success. Our surgeons will qualify an otherwise healthy patient for bariatric surgery if their BMI is greater than 40. A patient with a BMI over 35 would be considered if they have an obesity-related co-morbidity. Per NIH guidelines, surgery should be performed on BMI 32-34 ONLY in the most extreme cases of diabetes (Hgb A1c >9 on maximal medical therapy).
Here are the NIH qualifying obesity-related co-morbidities for bariatric surgery candidates with a BMI of 35-39.9:
Diabetes
Hypertension
Dyslipidemia
Sleep apnea
Chronic joint pain
Venous stasis disease (clotting issues making patient prone to venous thrombosis/ DVT)
Gastroesophageal reflux (GERD), plus severity level
In addition to meeting the physical requirements for bariatric surgery, you will have an initial consultation and meet with a nutritionist and psychologist. All of these pre-approval steps are put into place to ensure you have the best surgery experience possible if you decide to move forward. With traditional health insurance, it takes about 6 months to go through the approval and preparation process. The Carrum Health bariatric program does not require such an extended waiting period.
How do I prepare for my bariatric surgery?
Once you have been qualified for bariatric surgery, you will schedule your surgery and begin preparing — for both your surgery and life after. Taking the time to plan before you have your surgery will go a long way in making the procedure safer and more effective.
In fact, one study conducted by Stanford University's School of Medicine found that for every 1% of weight lost before surgery, a patient can expect to lose 1.8% more weight after the surgery. Additionally, they found that patients who lost weight before their procedure spent 36 minutes less time in the operating room because the surgeons were able to perform the surgery more easily.
Lifestyle changes
Bariatric surgery is just one component of a major lifestyle change. As with anything, taking it one step at a time can make it easier to build healthy habits that you will stick with long-term. Before your surgery, your doctor and nutritionist will suggest a preoperative diet that will help reduce the size of your liver. This diet will be low in carbohydrates and high in protein, causing your body to use your excess fat as energy.
Other lifestyle changes you'll want to make before bariatric surgery include:
Smoking cessation
Limiting or stopping your alcohol intake
Small amounts of exercise
Taking a multivitamin
Changing your eating habits
Other pre-surgery preparations
While your lifestyle gets an overhaul, you'll also need to coordinate with your medical team and insurance company to make sure you have all the correct paperwork, meet all the requirements for surgery, and have all the information you need to have a successful surgery and recovery.
Some of the things you or your Carrum Concierge will need to take care of before surgery include:
Schedule an initial consultation with your surgeon
Find out what paperwork and medical history documents you need
Attend in-person support groups and/or educational meetings
Plan for time off from work as you recover
Arrange for childcare and help at home during and after surgery
Plan for post-op transportation
Prepare post-op food, according to the diet recommended by your surgeon
It sounds like a lot of steps but planning ahead of time will help ensure that your surgery is successful and give you peace of mind that everything in your life is taken care of. When you use the Carrum Health benefit offered through your employer, you'll have a care concierge available to help with each step.
What happens during bariatric surgery?
Our partners hospitals typically offer at least two types of bariatric surgery: gastric sleeve surgery (the most common weight loss procedure in the U.S.) and gastric bypass surgery.
There are surgeons who specialize in bariatric surgery, so you will be able to find one that has experience treating patients similar to you. Not all bariatric surgeons perform all types of surgery, so when you choose a surgeon, you will want to keep that in mind.
Let us look into what happens during each type of weight loss surgery.
Gastric sleeve surgery, or sleeve gastrectomy
Gastric sleeve surgery is a restrictive weight loss surgery. Your surgeon can perform the procedure in one of two ways: by making a large incision in your abdomen or by making several small incisions and using a camera to guide the tools. About 85% of your stomach is removed, with only a thin vertical "sleeve" remaining. Your stomach will be closed with surgical staples.
According to a set of three studies, the average decrease in BMI from a sleeve gastrectomy is 30%, from 47.5 to 34.1. This is the most common weight loss procedure in the U.S.
Benefits of sleeve gastrectomy
Shorter operating time than gastric bypass surgery
No foreign objects in the body (laparoscopic adjustable gastric band surgery leaves a silicone band around your stomach)
No re-routing of intestines like with gastric bypass
Reduces levels of the hunger hormone ghrelin, aiding in reduction of hunger
Weight loss happens at a moderate rate over about 18 months
You retain some ability to absorb nutrients from your food
Risks of sleeve gastrectomy
Less long-term data available to determine consistent success rates
Does not improve heartburn or acid reflux
This is not reversible since part of your stomach is removed
Gastric bypass surgery
First, your bariatric surgeon staples your stomach and creates a small pouch in the upper section, making your stomach smaller. This helps you feel fuller while eating less. Then, your surgeon cuts your small intestine and attaches the lower part of it to the small pouch in your stomach. This is most often done laparoscopically (using tools inserted through small incisions in the stomach).
Essentially, what happens is your food bypasses most of your stomach and the upper part of your small intestine. This causes your body to absorb fewer calories and can change your metabolism. It is difficult to reverse gastric bypass surgery but can be done if medically necessary.
On average, 85% of people who get gastric bypass surgery lose and maintain their initial excess weight loss (an average of 65% of weight lost).
Benefits of gastric bypass surgery
Ample amounts of long-term data that show success rates
Significantly lowers diabetes after surgery
Can improve heartburn and acid reflux
Risks of gastric bypass surgery
More complicated procedure that can require more time under anesthesia
Higher risk of long-term nutritional deficiencies without vitamins
There is no one "right" weight loss surgery. Which one you get will depend on your overall health and your weight loss goals. Our surgeons usually leave the final decision up to you but will provide a recommendation. It is helpful to explore all your options so you can make a well-informed decision about which type of bariatric surgery is best for you.
What happens after weight loss surgery?
After all the consultations, pre-op planning, and your surgery, you will start recovery. The type of weight loss surgery you have will dictate what post-op recovery looks like. In general, you can expect to spend between 2 and 3 days in the hospital. Some procedures, like a laparoscopic adjustable band surgery, can be done outpatient but that is up to your surgeon.
About 5 hours after your surgery is complete, your surgeon will recommend that you walk around a bit — this can help reduce the risk of blood clots.
Our bariatric patients have an average recovery time of 6 weeks off work post-operation. The general recommendations you will follow after surgery include:
No driving for 2 weeks
No lifting, tugging, pushing, or pulling more than 15 lbs. for 6 weeks after surgery
After surgery, with the surgeon's consent, time off work may be adjusted if need be, depending on the progress of your recovery.
During your recovery time, you'll follow a staged post-op diet that looks similar to this:
Stage 1: Clear Liquid Diet – For one or two weeks after surgery.
Stage 2: Full Liquid Diet – For one to two weeks after stage one.
Stage 3: Pureed Food – For one to four weeks after stage two.
Stage 4: Soft Foods – For one to two weeks after stage three.
Final State: Regular Diet – For the remainder of the patient's life after stage four (starts typically 8 to 12 weeks after surgery).
Keep in mind, your surgeon and care team will give you specific recovery instructions, tailored to your health needs.
One of the biggest components of recovering from bariatric surgery is continuing with the lifestyle changes you started before you had your surgery. You'll have access to a care team that will help guide you in making healthier choices so you can continue losing weight and improving your health. The most important thing to remember is why you chose to have bariatric surgery. Focusing on your reasons for making this change can help keep you motivated. Taking small but steady steps will help you become a healthier version of yourself.
As with any medical procedure, there are risks involved. However, bariatric surgeries of all types have relatively low risks with high success rates. If you are a candidate for weight loss surgery (or are not sure but want to find out), your next step is to schedule a free consultation.