Carrum Health Continues its National Expansion with the Addition of the Connecticut Joint Replacement Institute as its Newest Center of Excellence in the Tri-State Region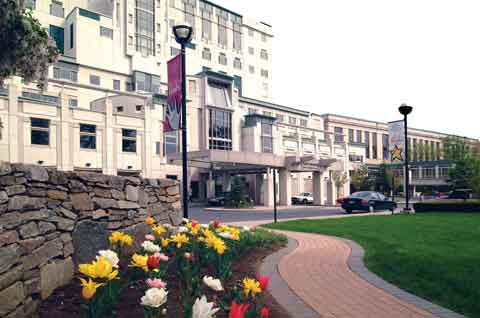 SAN FRANCISCO – October 22, 2018 Carrum Health, the next-generation Center of Excellence platform for self-insured employers, today announced the addition of Connecticut Joint Replacement Institute (CJRI) at Saint Francis Hospital in Hartford, Connecticut as its latest Center of Excellence (COE). The partnership allows employers in the New York Tri-State area to choose CJRI as a COE for their employees and dependents, and continues aggressive expansion of Carrum's national footprint.
"This latest expansion brings one of the highest-quality, top-ranked national centers of orthopedic care to hundreds of thousands of employees and their loved ones in the area, especially when compared to the local options available to them today," said Sach Jain, CEO at Carrum Health. "We believe they'll see great value from increased access, including improved outcomes, shorter recovery times, less lost time, and lower, more predictable health care costs."
"The Connecticut Joint Replacement Institute at Saint Francis is pleased to have been chosen as a Carrum Health Center of Excellence," said Dr. Steve Schutzer, President of Connecticut Joint Replacement Surgeons and Physician Executive for the Orthopedic Service Line at Saint Francis. "As one of the largest volume centers in the New York Tri-State area, we consistently rank within the top 10 percent nationally. Carrum Health boosts our opportunity to better serve the changing needs of self-insured employers in the region."
Access to CJRI fills a gap for current Carrum customers in the region, giving employers greater choice of locations, and opening the door for Carrum to sign up other regional and national employers. More employers will now have a Carrum Health COE within one to two hours' driving distance, expanding Carrum's reach into the greater New York City area. Employees will gain access to an increased availability of high-quality providers, and shorter travel distances will likely translate to higher utilization of Carrum Health.
Carrum's groundbreaking bundled payment platform provides prospective, fixed-price bundles for several of the highest-cost medical spend areas, including musculoskeletal, bariatric and cardiac specialties. For providers, this is more attractive than a population-based approach, such as an accountable care organization (ACO), because providers take on only the risk of an individual procedure, not the risk of the health conditions of an entire employee base. As a result, more providers are joining Carrum's platform and offering its bundles, providing employers and employees with greater choice in more locations.
Carrum plans to add COEs across the country, expanding into six to eight new markets this year. Some 20 percent of employers will use COE programs next year through a vendor such as Carrum Health, according to the National Business Group on Health and Willis Towers Watson surveys.
About Carrum Health
Carrum Health was founded in 2014 with a mission to "bring common sense to healthcare" through a model that benefits providers, employers and their employees. Through Carrum's award-winning platform, progressive self-insured employers are connected with regional Center of Excellence (COE) providers under bundled payment arrangements that make costs for procedures more predictable and lower. By aligning provider incentives with quality performance, Carrum is driving dramatic improvements in both the patient experience and care outcomes. Both employers and their employees achieve significant cost savings, while top doctors and hospitals recognize increased volume, new revenue streams and substantial payment efficiencies. Headquartered in San Francisco, Carrum Health partners with leading COE hospitals including Hoag Orthopedic Institute Surgery Center, Scripps Health, Stanford Health Care, Providence Saint John's Health Center and Swedish Medical Center. Customers include municipal organizations throughout the State of California and Fortune 150 companies.
For more information, visit carrumhealth.com
Media Contact:
Theresa Maloney
Cogenta Communications
415-225-5261
theresa@cogentacom.com